CREATIVE WRITING EVENTS
Wednesday, November 4, 2015 at 6:30 pm to 8:00 pm
65 West 11th Street Room B500, New York, NY 10003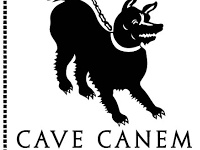 Jericho Brown is the author of two books of poetry, The New Testament, and Please, which won the 2009 American Book Award. Brown is the recipient of a Whiting Writer's Award and has received fellowships from the Bread Loaf Writers' Conference, the Krakow Poetry Seminar in Poland, the National Endowment for the Arts, and the Radcliffe Institute at Harvard University. He is currently an assistant professor of English and creative writing at Emory University in Atlanta, Georgia.
TJ Jarrett is a writer and software developer in Nashville, Tennessee. Her debut collection Ain't No Grave was a finalist for the 2013 Balcones Prize. Her second collection, Zion, was the winner of the Crab Orchard Open Competition in 2013. Her recent work has been published or is forthcoming in Poetry, African American Review, Boston Review, Beloit Poetry Journal, Callaloo, DIAGRAM, Third Coast, VQR, West Branch and others. She has earned scholarships from Colrain Manuscript Conference and Vermont Studio Center; fellowships from Sewanee Writer's Conference 2014 and the Summer Literary Seminars 2012 and 2014; winner of VQR's Emily Clark Balch Prize for Poetry 2014; a runner up for the 2012 Marsh Hawk Poetry Prize and 2012 New Issues Poetry Prize; and her collection The Moon Looks Down and Laughs was selected as a finalist for the 2010 Tampa Review Prize for Poetry.
Robin Coste Lewis is a the author of Voyage of the Sable Venus (Knopf, 2015). A Provost's Fellow in Poetry and Visual Studies at the University of Southern California, Lewis is also a fellow of the Los Angeles Institute of the Humanities.  She received her MFA from NYU in poetry, and an MTS in Sanskrit and comparative religious literature from the Divinity School at Harvard University. A finalist for the International War Poetry Prize, the National Rita Dove Prize, and the Discovery Prize, her work has appeared in various journals and anthologies, including The Massachusetts Review, Callaloo, The Harvard Gay & Lesbian Review, Transition, VIDA, Phantom Limb, and Lambda, amongst others. She has taught at Wheaton College, Hunter College, Hampshire College and the NYU Low-Residency MFA in Paris. Fellowships and awards include the Caldera Foundation, the Ragdale Foundation, the Headlands Center for the Arts, and the Summer Literary Seminars in Kenya.  Born in Compton, California, her family is from New Orleans.
Sponsored by the Creative Writing Program and Cave Canem Foundation. Cost: Free to all.
OTHER EVENTS IN THE COMMUNITY
THE HIFI READING SERIES & MINORITIES IN PUBLISHING PRESENT: DANIEL JOSÉ OLDER WITH GLENDALIZ CAMACHO, COURTNEY GILLETTE, and ENNIS SMITH

Wednesday, November 4, 2015, 8:00 pm
The HiFi Bar, 169 Avenue A, New York, NY, 10009
Minorities in Publishing podcast host and New School alum Jenn Baker joins us this November to present Kirkus Prize finalist Daniel José Older (Shadowshaper) alongside emerging writers Glendaliz Camacho, Courtney Gillette, and new school alum Ennis Smith.  In the hopes of giving lesser-known voices a spotlight to read their work, The HiFi Reading series brings you a selection of "undiscovered" writers, curated each month by an established author. Event is free with 1 drink.
Skill/Share/Connect Networking Event
Thursday, November 5, 2015 at 5:00 pm to 7:00 pm
The School of Media Studies is hosting its first ever Skill/Share/Connect networking event presented by the Media Studies Student Advisory Council.
This event will provide students the opportunity to use their New School community and resources to network, build teams and enhance personal skill sets. Join us for refreshments, fun and the chance to learn new skills, share your own and connect with your peers!
New School programs and groups attending:
MA/MS Media Studies
MFA Design & Tech
MFA Creative Writing
BFA Jazz
Dorkshop
Coding Club
New School Challenge 
Sponsored by the School of Media Studies. Cost: Free.
T.J. Stiles + Brenda Wineapple

Thursday, November 5th, 2015 at 7:00 PM
The Strand, 828 Broadway (& 12th Street), New York, NY 10003
Pullitzer and National Book Award-winning biographer T.J. Stiles joins faculty member, literary critic and essayist Brenda Wineapple for an exclusive chat in the rare book room celebrating the release of his new book, Custer's Trials, a radical, brilliant new account of the life of General George Armstrong Custer. More information is available here.
Graphic Novelist Riad Sattouf, Lecture and Book Signing

Friday, November 6th, 2015 at 1:30 pm
University Center Room U L104 (63 Fifth Ave, lower level)
Parsons School of Design's Illustration BFA presents Riad Sattouf, a bestselling cartoonist and filmmaker who grew up in Syria and Libya and now lives in Paris, here in New York to discuss and sign copies of the new English release of The Arab of the Future. Books will be for sale at this event.
The author of four comics series in France and a former weekly columnist for the satirical publication Charlie Hebdo, Sattouf also directed the films The French Kissers and Jacky in Women's Kingdom.The Arab of the Future, which has been published in fifteen languages, is his first work to appear in English.
Sattouf's virtuoso graphic style captures both the immediacy of childhood and the fervor of political idealism, as Sattouf recounts his nomadic childhood growing up in rural France, Gaddafi's Libya, and Assad's Syria – but always under the roof of his father, a Syrian Pan-Arabist who drags his family along in his pursuit of grandiose dreams for the Arab nation.
The New York Times published a Sunday book review article on Satouf's The Arab of the Future, which you can read here.
To see more of his published works, visit his personal site here.
New Literature from Europe Festival

Friday, November 6-Monday, November 9, 2015
Various Manhattan locations. Venue information available here.
The New Literature from Europe Festival presents prize-winning authors from across the Continent for readings and conversations with US-based translation champions and esteemed writers. This year's writers include: Bernhard Aichner (Austria), Naja Marie Aidt (Denmark), Niccolò Ammaniti (Italy), Tomáš Halík (Czech Republic), Wojciech Jagielski (Poland), Josefine Klougart (Denmark), Alek Popov (Bulgaria), Jordi Puntí (Catalan), György Spiró (Hungary), Bogdan Suceavă (Romania), Bettina Suleiman (Germany), and Ardian Vehbiu (Albania).
Now in its 12th year, the four-day festival will run from Nov. 6-9 and highlight emerging and acclaimed European authors joined by American translation champions including Grove Atlantic's Morgan Entrekin, Europa Edition's Michael Reynolds, Open Letter Books' Chad Post, the BBC's Michael Maher, and PEN Translation Committee co-chair, Margaret Carson, among others. The conversations will range from the existence of God, to apartheid in South Africa, and the refugee crisis in Europe, as well as the art and craft of writing and translating.
For a full schedule of festival events and venues including a full-day's programming at Scandinavia House, visit the New Literature from Europe festival website: http://www.newlitfromeurope.org.
First Person Plural Reading Series—Harlem FT'ing Margo Jefferson, Victor LaValle, Emily Raboteau, Rachel Eliza Griffiths

Tuesday November 10, 2015, 7:00 pm
The Shrine World Music Venue, 2271 Adam Clayton Powell @ 133rd, Harlem
This quarterly reading series, described as "Harlem's best" by Time Out New York, presents fiction writer VICTOR LAVALLE, memoirist MARGO JEFFERSON, writer EMILY RABOTEAU and poet-visual artist RACHEL ELIZA GRIFFITHS on Tuesday November 10th, 7pm, at 
Shrine
, Harlem. Take subway lines 2/3 or B/C to 135th Street. Entrance is by $5 suggested donation. 
RSVP
 here. For more info please see: 
www.firstpersonpluralharlem.com
, Twitter + IG: @fppharlem
Warscapes Public Lecture Series: Poetic Responses to Torture
Wednesday, November 11, 2015 at 6:00 pm to 8:30 pm 
UL104 (lower level) University Center, 63 Fifth Avenue, New York, NY 10003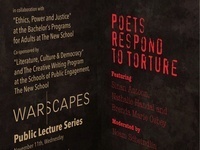 Torture can make the world contract until there is no consciousness but that of pain. How, then, can we use poetry, which expands our understanding of the world, to describe this deprivation of humanity? In light of the systematic abuses described in the "Senate Intelligence Committee report on CIA Torture," and of government complicity in torture throughout the world, The New School presents a panel entitled "Poetic Responses to Torture." In this panel, poets will explore the connections between poetry, narrative, news, bodies, public policy, and torture.
Participants include:
Sinan Antoon: Iraqi poet, novelist, scholar, translator and associate professor at New York University. He has published two collections of poetry in Arabic and one collection in English: The Baghdad Blues. His novels include I`jaam: An Iraqi Rhapsody and The Corpse Washer.
Nathalie Handal: poet and playwright born in Haiti to a Palestinian family, and is the author of four books of poetry, several plays, and the editor of two anthologies. Her works of poetry include The Neverfield Poem (1999), The Lives of Rain (2005), Love and Strange Horses (2010),Poet in Andalucía (2012) and she is editor of the anthology, The Poetry of Arab Women (2001).
Vanessa Place: poet and criminal defense attorney. She is the author of Dies: A Sentence (2005), a novel-in-verse; La Medusa (2008); and Boycott (2013). She co-authored Notes on Conceptualisms (2009) with Robert Fitterman and is the author of the legal analysis The Guilt Project: Rape, Morality, and Law (2010). She also co-directs Les Figues Press.
Moderated by Noam Scheindlin, a poet and literary theorist. His volumes of poetry include The Proper Conditions for Flight (G-Train Books) and Unorganized Territory (Ten Pell). He is currently Associate Professor at LaGuardia Community College, CUNY and the Poetry Editor for Warscapes magazine.
Organized by Bhakti Shringarpure, editor-in-chief of an online magazine called Warscapes(www.warscapes.com)
This event is hosted by the Ethics, Power, and Justice curricular area within the Bachelor's Program for Adults and Transfer Students.